The stories these forms of communications would be wonderful to know!
What do we mean by petroglyphs, pictographs, and geoglyphs?
*Petroglyphs are rock carvings (rock paintings are called pictographs) made by pecking directly on the rock surface using a stone chisel and a hammerstone. When the desert varnish (or patina) on the surface of the rock was chipped off, the lighter rock underneath was exposed, creating the petroglyph. Read more: https://en.wikipedia.org/wiki/Petroglyph
*Pictograph means art painted on rock surfaces. This is in comparison to petroglyphs, where the images are carved or incised. 
*A geoglyph is a large design or motif (generally longer than 4 meters) produced on the ground by durable elements of the landscape, such as stones, stone fragments, gravel, or earth.
---
These Baja California rock art sites were visited by David and/or Octopup. They will be presented geographically, from north to south. If the site is not advertised or behind a gate, only an approximate GPS is given. Unless stated differently, photos are from David Kier from the VivaBaja.com trip-photos link, with a second link to the Octopup trip-photo page. Click the links to see more photos. Sites I have been to but do not have good photos of include Los Vallecitos (near La Rumorosa), El Cajon Canyon and Agua Caliente Canyon (both are canyons facing Valle Chico, southwest of San Felipe).
To see more rock art, get the Harry Crosby book, The Cave Paintings of Baja California.
*= Other sites documented by Octopup (I have not visited or photographed) will be included below with a link to Octopup's photo page.
---
Los Vallecitos Photos (on Facebook) Thank you, José Ruiz.
---
---
Vibora Canyon (Rattlesnake Canyon): approx. 32°06′, -115°44′  elev. 225 meters/ 740 feet                                                                                           https://vivabaja.com/p108/ and https://octopup.org/baja2018/vibora
---
---
---
---
La Ventana Geoglyphs: 31°40.53′, -115°4.69′ elev. 50 meters/ 165 feet
---
---
Agua Caliente Canyon: 30°39.35′, 115°10.16′ elev. 500 meters/ 1,640 feet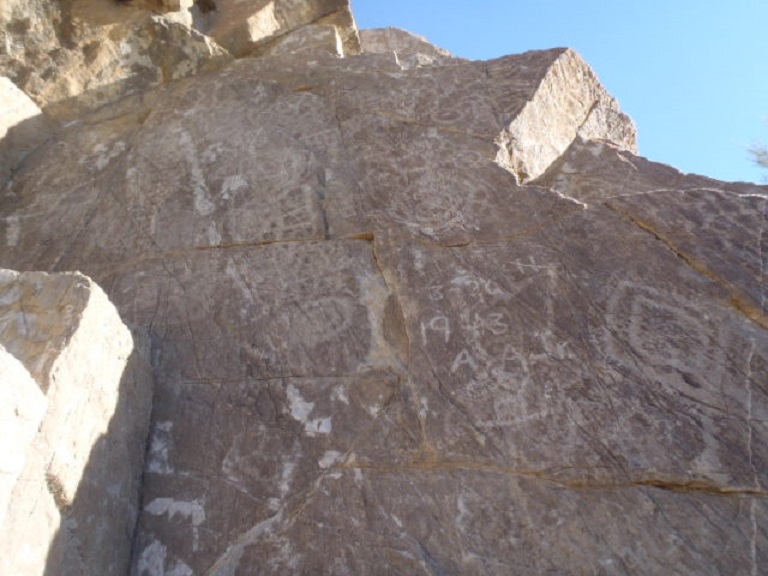 ---
---
Petroglyph Park: approx. 30°24′, -115°33′ elev. 525 meters/ 1,721 feet
---
---
San Fernando Petroglyphs: 29°58.16′, -115°14.84′ elev. 460 meters/ 1,510 feet [locked gate 2 miles from site]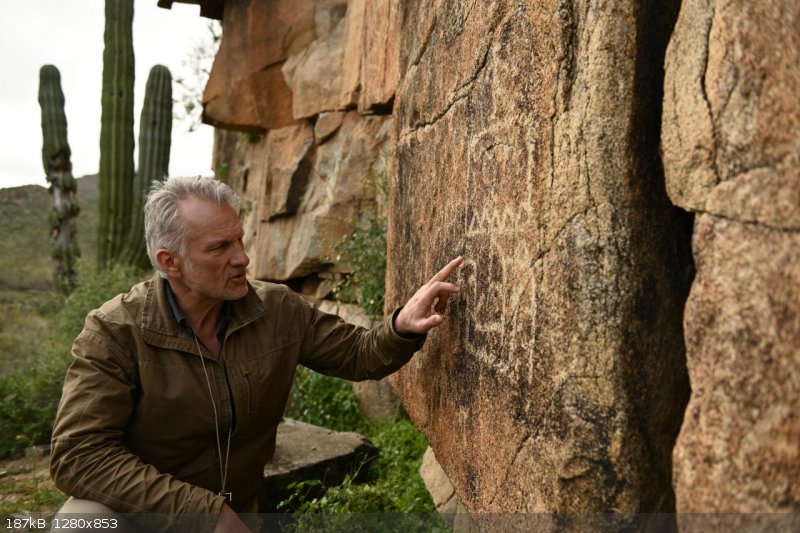 ---
---
Las Pintas: approx. 29°54′, -115°25′ elev. 230 meters/ 755 feet https://vivabaja.com/las-pintas-fossil-grotto/ and https://octopup.org/baja2012/el-rosario-area
---
---
Cataviña's Painted Cave: 29°45.12′, -114°44.57′ elev. 550 meters/ 1,800 feet  https://vivabaja.com/p703/ and https://octopup.org/baja2016/ruins-art
---
---
Santa María Canyon Trail: approx. 29°43′, -114°31.5′ elev. 500 meters/ 1,640 feet https://vivabaja.com/p403/
---
---
Montevideo: 28°54.75′, -113°43.27′ elev. 440 meters/ 1,440 feet [locked gate 2 miles from site] https://vivabaja.com/montevideo/   and https://octopup.org/baja2005/san-borja
---
---
Las Tinajitas: approx. 28°46′, -113°40′ elev. 620 meters/ 2,030 feet [locked gate 4 miles from site, obtain guide at San Borja] https://vivabaja.com/p401/
---
---
---
---
Mesa del Carmen: approx. 28°07′, -113°18′ elev. 520 meters/ 1,700 feet https://vivabaja.com/p712/6/ and https://octopup.org/baja2012/bahia-san-rafael  
---
---
*Santa Gertrudis Cave Paintings
---
---
Baja California Sur
Cueva del Ratón (San Francisco de la Sierra): 27°35.45′, – 113°01.46 elev. 1,170 meters/ 3,840 feet [behind locked gate, obtain guide at hostel] https://vivabaja.com/p519/3/
---
---
San Borjitas: 26°52.29′, – 112°15.49 elev. 480 meters/ 1,575 feet [behind two locked gates, obtain guide at Rancho La Tinaja] https://vivabaja.com/p519/
Click this link to see the cave figures illustrated, with DStretch enhancement which reveals hidden figures: https://www.dstretch.com/SanBorjitas/index.html
To me, the most magnificent cave art that I have seen, so far! I was with Cameron Steele and the 2019 Trail of Missions Recon team.
---
---
---
---
Las Parras Canyon Pictographs [Along the San Javier highway, 8.2 miles west of Hwy. 1/ Loreto] This site was buried by a flash flood in August 2013. It was uncovered sometime later. Photos below are from 2009. https://vivabaja.com/p709/
---
---
Come back soon to see additional sites and links added.
Home page VivaBaja.com