Using Amo Pescar's (Mike's) new desert command unit (Ford F-250 4WD with Callen Camper), we went to many interesting and new sites in Central Baja California. Visit my web site for other Baja adventures and information at: http://www.vivabaja.com All photos by David K, Chris K or Amo Pescar. Scanned by Wild Bill.
David K & 'Baja Bucko'
Stopping first in San Diego, we meet 'Baja Bucko' (Teddi) and her family, from Oregon. 'Whistler' (Glenn) had provided fishing equipment for use while kayaking the Sea of Cortez. Teddi and her sons will first be riding mules on the 230+ year old cargo trail between Mision Santa Maria and Gonzaga Bay!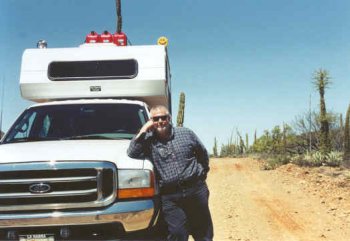 Along the road to Mision San Borja is Amo Pescar (Mike) and his new rig, the 'Desert Command Unit'
Here's my son, Christopher. His first time seeing central Baja and boojums!
David K and one of his local friends, ha! The 'boojum' tree (cirio) is one of central Baja's best known unique plants.
Palms, Boulders, Boojums, + Elephant Trees=Baja
We spot a lone blue palm to the east of the highway, and we take a hike for a close inspection. GPS waypoint (WGS 84) is: N 29°47.867′ W114°47.321′
ARIDOLOGIST
Look who we find in the desert! It is none other than Neal Johns, The Aridologist. We find Neal and his most tolerant wife, Marian, on the road to San Borja.
Las Tinajitas
Neal and Marian lead us to a cliff face of many caves. Most of which contain ancient cave art. Christopher was great climbing up to each one and reporting his discoveries.
When Chris yelled he found a 'medicine man', we scrambled up to see this cool cave.
After examining many caves at Las Tinajitas, we followed Neal and Marian south past San Borja (we would return the next day for a closer look there). The road immediately gets bad and requires 4WD. A rough climb is made to a higher valley, containing the old San Borja airstrip. Beyond is a faint and overgrown road heading SE into the San Juan Valley. Our goal was the very old ranch of San Gregorio.
Beyond San Borja
This photo taken from the foot trail up to Rancho San Gregorio, looking NW towards San Borja. The 'Desert Command Unit' is seen in the foreground. A lava tower is in the background. A cross was placed on the top. The road from San Borja added many 'Baja pin stripes' to Mike's new truck!
San Gregorio
The old abandoned rancho is reached by a 0.4 mile foot trail up a ravine. N 28°39.824′ W113°39.930′ elev.2,417′ Compare this to a 50 year old photo in the Lower California Guidebook (pg.127) when the ranch was operating.
From the Lower California Guidebook, Rancho San Gregorio, 50 years ago.
This would make a great vacation home, no? Notice the adobe walls built on a cut stone base. This was the same technique used by the missionaries. We are informed San Gregorio dates back to mission times.
TEAM BAJA!
Mike and Dave on the San Gregorio trail.
Thorns, Flowers, …
… and Fangs (not)!
This friendly fellow greeted us at the end of our hike. Identified by Baja enthusiast 'BJ', as a 'coachwhip'.
Misión San Borja (1762-1818)
This northernmost of the stone missions in Baja, completed in 1801 by the Dominicans. The older adobe Jesuit ruins are in back. N 28°44.660′ W113°45.267′ elev.1,398
Here is José, who with his family, guide visitors to the mission and nearby attractions. He played host to Graham Mackintosh during Graham's 1000 mile walk down Baja, in 1997. Read 'Journey with a Baja Burro' available from the author at http://www.grahammackintosh.com
Top of the stairway to the never completed bell tower, Mission San Borja.
Recently, a mission restoration/conservation group erected this steel awning over part of the original Jesuit ruins at San Borja.
Viva Baja #1 by David K
Along the road to Camp Gecko, Bahia de los Angeles, I hid a 'geocache' (geo-cash). Part of a new (world wide) treasure hunting sport using GPS receivers. This one is called 'Viva Baja #1' the location and details are posted at http://www.geocaching.com, click on 'Mexico'.
Camp Gecko
Being Easter Vacation/ Spring Break, Gecko was pretty full. We were lucky to have this spot! For $3/pp to camp, you have use of the bathrooms with hot showers. Ice and firewood are also sold here. 'Doc' and Sylvia (owners) are great hosts. N 28°54.051′ W113°31.730′
Here (left to right) are David K, Teacher Tom, and Amo Pescar. One night Tom provided the trigger fish, and we provided the tequila….woopeeee!
Bahia de los Angeles Museum
A visit to this museum is a must! Containing both pre-historic and historic artifacts, this shouldn't be missed. Located west of the plaza with the Las Flores mine train. The GPS waypoint for L.A. Bay (where the highway makes a 90° turn at Casa Diaz is N 28°56.767′ W113°33.545′.
At the turtle rescue facility, interesting satellite tracking of the loggerhead's migration to Japan is displayed. Several turtles can be seen in two tanks. Located at the former government trailer park, just north of town.
Viva Baja #2 by David K
Near the ghost town of Desengaño, I hid the second geocache between a boojum and elephant tree. Details at http://www.geocaching.com click on 'Mexico'. Beware of the open mine shafts!
North of Desengaño.
We planned on hiking to the famous water hole of Yubay. But, at the only fork in this road we went north rather than east. We were not disappointed with our mistake, for we discovered an exotic site ahead!
Blue Hesper Palms (Brahea armata) aka 'Rock Palm'
This boulder hill was covered with these 'rock palms'. Desert palm trees usually are found in arroyo bottoms containing water. The mountain side, to the north of this hill was also growing these blue palms, out of the rock! Thanks to 'Steve in Oro Valley' for the identity of this rare plant.
Another photo of the exotic palms, 7 miles north of Desengaño.
GPS Waypoints: L.A. Bay Hwy. North to Rock Palm Hill
Jcn.Mex.1 & L.A.Bay Hwy. (abandoned Parador) N 29°02.763′ W114°09.169′
Road north for Desengaño, Yubay, Rock Palm Hill N 29°04.314′ W114°02.414′
Fork: Rt. to Yubay, Palms; Lt. to Desengaño N 29°06.836′ W114°01.650′
Desengaño Mine Ruins, open shafts! N 29°06.984′ W114°01.871′
Fork: Rt to Yubay; Straight for Rock Palm Hill N 29°09.174′ W114°01.396′
Rock Palm Hill area campsite N 29°12.727′ W114°00.580′
Above waypoints using map datum WGS 84.
Mike (Amo Pescar) photographs the Cataviña rock art found in this cave, on top of a hill just a short distance from Mex.#1. 29°45.118′, -114°44.570′  (WGS 84)
Cataviña Rock Art Site
This is just a small sample of the colorful ancient pictographs.
Here's Christopher at the ' swimming pool', just north of the painted cave hill. N 29°45.106′ W114°44.451′
Giant Cardón and the moon, beyond!
Viva Baja #3 View
This is the view from the parking area near my third geocache location in Baja. Details at http://www.geocaching.com, click on Mexico.
I hope you enjoyed viewing this trip web site, as much as I enjoyed bringing a bit of Baja to you! My email address is: info@vivabaja.com My main web site is: http://vivabaja.com