El Arco:
---
After looking around mostly deserted El Arco, my next stop was Pozo Alemán, a most interesting ghost town where some miners lived underground. I wrote about its history for Baja Bound a while ago… https://www.bajabound.com/bajaadventures/bajatravel/pozo_aleman.php
There is a modern ranch house there, but nobody has been home my last couple of visits.
On to the east on a very good dirt road, perhaps one of the best long stretches of graded road in Baja?
I passed by the road to the giant painted cave trailhead (see https://www.bajabound.com/bajaadventures/bajatravel/painted_cave_of_el_carmen.php ) and note where El Camino Real crosses (the north direction has become an auto road to Rancho La Unión).
The shortcut road to Hwy 1 if southbound (via Guillermo Prieto) is noted (I will be using this road tomorrow) and I stop at Rancho Piedra Blanca where a motorcycle group is, getting gasoline. Piedra Blanca is both a cattle ranch and a guest ranch with cabins and meals available. See their Facebook page: https://www.facebook.com/Rancho-Piedra-Blanca-117528994938225/
As I saw last September on my Baja Extreme 2016 tour, the Cuesta de la Ley (The Grade that Rules) is now concrete. Once at the bottom the speed was back up. Rancho El Progreso is passed (no activity was seen) and the T-junction where the road to Bahía de los Angeles goes left and the road east turns right. Just 1/4 mile to the right is the Road south passing Rancho Escondido (closed) and going to El Barril. The road straight continues east to Punta San Francisquito. See my TRIP #1 for details.
El Barril is a small town with power poles and wires all over! I soon learn from a local that they had a generator for the town. When it broke down, nobody could fix it. Instead, they all have solar panels on their homes, now!!!
There is a brick, two + story building on the cliff, with some interesting stories behind it. It is sometimes known as the Ybarra House, named after the mining company that brought supplies in from Sonora to El Barril for the Calmallí (and Pozo Alemán) area mines.
My friends asked me to go to Rancho Ilusión, being so near El Barril and ask the owner about future gates on the No Whimps Trail (the track that goes south along the coast via Los Corrales to Rancho La Trinidad and meets the road from San Ignacio via Santa Marta).
---
Pozo Alemán:
---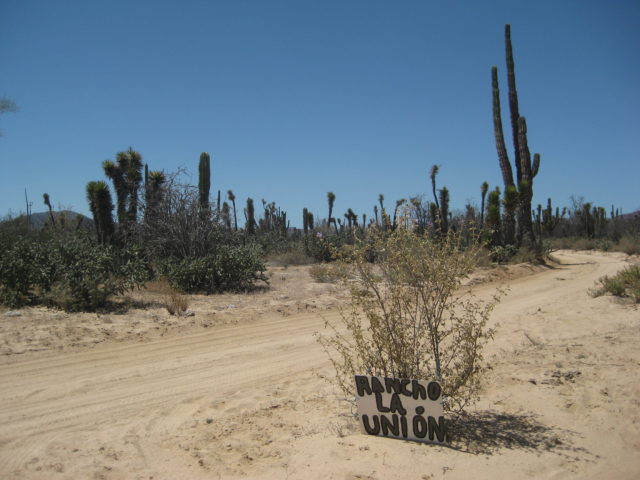 ---
---
I end up camping in a sandy arroyo about a mile from La Ilusión. It was a perfect spot, no bugs, no cows, perfect!
The tent is a Coleman Instant Tent and it is really instant! Inside is an air mattress with a built-in electric pump. The 110v outlet in the Tacoma bed is the power… I have an extension cord if my truck isn't next to the tent. My other furniture is a camp chair. In the truck, are two plastic tubs. One is for the camping gear and the other is for food and kitchen gear. My sleeping bag, pillow, and snacks are in the cab of the truck. I have a battery powered LED lantern and small flashlights for the dark nights. I bring a few quick light fire logs for an easy campfire start up. I was so relaxed here, I didn't even have a campfire… It was nice, not cold at all.
Highway 1 to Punta San Francisquito/ El Barril Mileage Log:
Hwy. 1 to El Arco (fork in road near military base) is 24.8 mi.
El Arco to Pozo Alemán road is 2.3 mi
Pozo Alemán road to the El Camino Real crossing is 9.6 mi
E.C.R. to Guillermo Prieto shortcut road is 3.6 mi
Guillermo P. (& Mission Sta Gertrudis) shortcut to Piedra Blanca is 1.7 mi
Rancho Piedra Blanca to top of Cuesta de la Ley concrete grade is 10.3 mi
Top of grade to L.A. Bay road left is 8.1 mi
L.A. Bay road to El Barril road right is 0.3 mi (faded sign for Rancho Escondido here)
El Barril is 8.8 mi south and Punta San Francisquito is 12 miles east.
Total Hwy. 1 to El Barril is 69.5 mi
… or to Punta San Francisquito is 72.7 mi
The road is almost all very good, graded road with many sections safely allowing 45-50 mph (Toyota Tacoma, Bilstein 5100 shocks)
End of DAY 2.
---
Day 2 Map:
---
DAY 3 (Sun. June 4, 2017)
Easy camp take-down on a beautiful morning. I head on east in the arroyo road. The main graded road between El Barril and Ilusión is reached 3.4 miles from Rancho Ilusión and the El Barril road junction is in just 0.4 mi.
At Mile 8.5 from the above junction is the San Francisquito-El Arco road and the time is 8:02 am Pacific Time. I make notes on the various road points driving back west. Rancho Piedra Blanca is reached at 8:42 am. The Guillermo Prieto road fork (unmarked) is in the arroyo where the El Arco road climbs up, on the west side. It is 1.7 mi from Piedra Blanca (8:46 am).
The road crosses the wide Arroyo Purificación and with all the rain this past winter, the road is very sandy at the crossing. If you don't have 4WD, then get your speed up, momentum is your friend in 2WD. On the south side of the crossing is a big hill the road climbs over, and once again the recent wet weather has made an easy hill a bit slower and there is a detour route around a real rocky section of the old graded road where the fill dirt has washed out leaving big rocks exposed. The detour road is short but slow.
Other than the wash and hill (both together at the very north end of the Guillermo Prieto cut across route), this is a fast and easy road between Vizcaino and Punta San Francisquito, or to reach Mission Santa Gertrudis.
If you are in a heavy rig, camper, or towing, perhaps better to not use the northern section until the grader goes over it again?
Where the road crosses El Camino Real is easy to spot on Google Earth, but I spent a half hour walking the desert on both sides of the road looking for some sign of the ancient highway that here dates back to 1759 when San Borja da Adac was made a visita of Mission Santa Gertrudis.
11.9 miles from the San Francisquito road, I reach the intersection with the road between El Arco and Santa Gertrudis. Straight across is the road to Guillermo Prieto and Vizcaino. I turn left (east) to visit the mission. It is 9:43 am (includes the 30-minute walkabout looking for El Camino Real.
Rancho Miraflores (made famous in Graham Mackintosh's second book, Journey with a Baja Burro) is just a kilometer away and the road circles around it to the north side. Another ranch (Guadalupe) is 4.6 miles past Miraflores. The road to the mission is 10.9 miles long and fast for 7 of those miles with the last 4 being very rocky (again from the floods of this past winter).
The oasis at the mission is a beautiful site. A village was once here, but now, just two people inhabit the mission area other than the ranches. One is named Francisco and he is in charge of the mission grounds and museum there. My past visit here found the mission locked, so it was with great pleasure to see the door open. After photos inside and out of the mission and its remote bell tower, Francisco opened the museum for me. It is small but has a library (mostly with books for children and National Geographic magazines). I thanked Francisco and left a donation. This corner of historic Baja California receives little attention from either tourists or government.
I was at Santa Gertrudis from 10:15-11:00 am.
Back at the Guillermo Prieto intersection at 11:32 am and turned south. The state border between Baja California and Baja California Sur is 2.5 miles away. A cattle control gate is just a few feet north of the invisible border line. The clock goes from 11:44 am to 12:44 pm as I enter Mountain Time Zone.
Mission Santa Gertrudis, 1752-1822:
Founded by the Jesuits in 1752, the mission consisted of adobe rooms until the Dominicans were given charge of the Baja California missions in 1773 and constructed the stone church here, at San Borja, and completed the San Ignacio stone mission church.
The bell tower at Santa Gertrudis is the only one in Baja built away from the church building.
Continues on next page…
---