In February, 2006, Elizabeth and I returned to the petrified 'forest' canyon. We first saw it the previous July (during the El Rosario Cultural Festival http://vivabaja.com/705/page6.html). We also went to La Bocana beach, logging the milages on both roads from town (see below).
Getting to the petrified wood canyon…
After receiving permission from the property managers of Diamante Del Mar, we hiked up this road to the canyon trail.
View of La Bocana
We hiked up this ridge just east of the correct canyon when we realized we missed the trail.
The cross shaped cholla is a good marker on the trail to the petrified wood canyon.
Once in the dry wash, you begin to see the petrified wood samples as you hike up the narrow arroyo.
Elizabeth hiking in the arroyo.
Interesting erosion…
Elizabeth and David exploring Baja's great places.
La Bocana Beach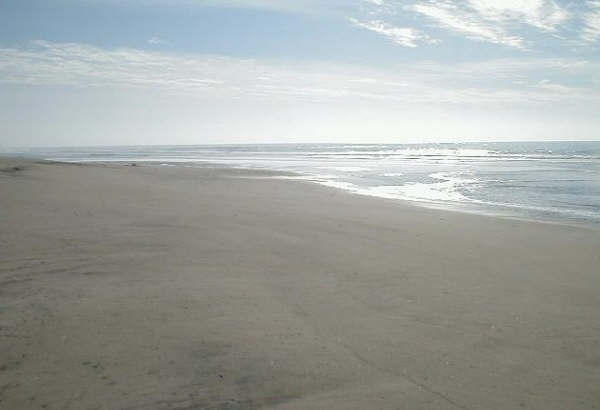 Just over 5 miles from Highway 1, in El Rosario, is this beautiful beach.
The north end of the beach is this little cove in the cliff.
The view west…
EL ROSARIO to LA BOCANA (High Road)
0.0 mi. Turn Right off highway at the sharp bend in town.
Continue west passing by the road left to El Rosario de Abajo and Punta Baja.
0.8 mi. Fork, go right.
1.2 mi. Fork, go right… road heads uphill.
1.5 mi. Pass palapas and banana trees, climb hill.
2.2 mi. View point, see La Bocana beach.
2.6 mi. Go straight, left is a poor road.
2.9 mi. Fork, go left… Ahead is a locked gate.
3.0 mi. Fork, go left… Right is the entrance gate to Diamante Del Mar.
3.6 mi. Fork, go ahead/ left. Right is a poor road.
3.9 mi. Fork, go right, to the beach.
5.3 mi. La Bocana Beach
EL ROSARIO to LA BOCANA (Valley Road, 4WD)
0.0 mi. Turn Right (west) off Highway 1 at the sharp curve in El Rosario.
In about 100 yards, turn left on road for El Rosario de Abajo and Punta Baja.
Cross over El Rosario river culvert pipe and soon turn right in the river valley, some water crossings before reaching the south bank of the river and entering the town of El Rosario de Abajo.
1.5 mi. El Rosario Museum, on left. Photos taken inside at http://vivabaja.com/505/page6.html
1.6 mi. Rosario de Abajo mission ruins, on right.
2.5 mi. Road left for Punta San Antonio and the coast south of Punta Baja.
2.9 mi. Road left for Punta Baja, continue ahead (west).
3.1 mi. Turn right for La Bocana, deep water crossing soon.
4.2 mi. Come to a fence, turn left to opening then continue west, Deep sand ahead.
5.1 mi. La Bocana Beach
Links