Jack Swords has captured many of Baja California's historic sites on film. His wonderful mission photos are found at http://vivabaja.com/missions1 Please enjoy the following photos of other historic sites…
El Progreso Mines
Silver and gold was processed at this smelter near San Antonio (south of La Paz). GPS (WGS84) is 23°47.26′, -110°3.32′ Photo copyright (c) Jack Swords
Railroad Bridges
Between San Antonio and El Triunfo ran a railroad. GPS is 23°48.73′, -110°5.51′ Photo c Jack Swords
The railroad was begun in 1863 using mule drawn carts. A steam locomotive was in operation by the 1890's running over 10 miles of track. 1918 was the last year of regular operation. Photo c Jack Swords
Mystery Wall of Juncalito
The well built, mortarless wall is 4 feet tall by 3 feet wide and quite long. It resembles other walls found at mission sites in Baja. Photo c Jack Swords
Jimmy Smith in 2003
One of Jimmy's favorite sites was Real de Santa Ana, Baja's oldest ore mill ruins. Photo c Jack Swords
This tarantula was near Catavina
A mine shaft at Desengaño that goes straight down. A Model T Ford is reported down there!
Rock art at Tinaja de Yubay
Ruins at El Sauzalito copper mine.
A mine shaft at El Sauzalito. Access is east from El Rosario on Hwy. 1, between Kms. 103-104 (next to café), then go 2.5 miles north to a fork and 1.1 mile west. Road continues 18 miles to San Juan de Dios.
Mountain Lion!
This puma foot print was seen at Tinaja de Yubay. The cat was following Jack, as its tracks were on top of Jack's!
Calmallí, where gold was discovered in 1882…
… and by mid 1883, nearly 300 miners helped to extract $250,000 (dollars) in gold.
Dry washers (for extracting gold without water) left behind at Pozo Aleman (between El Arco and Calmallí). Stay tuned for more photos from Jack's camera! Read Jack Sword's articles at http://forums.bajanomad.com/ Thank you, web by http://vivabaja.com/
Rancho La Presa 24°52.23′, -111°3.33′ (WGS84)
Baja history buff and INAH authorized photographer Jack Swords has returned to the old ranch of La Presa, once owned by Fernando de la Toba. De La Toba served as colonial governor of peninsular (Baja) California in 1821 (page 314, 'A History of Lower California' by Pablo Martinez).
La Presa almost 50 years ago…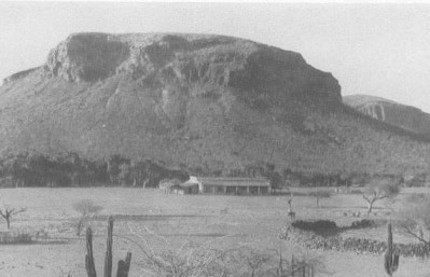 Photo by Howard Gulick appears in the 1956 Lower California Guidebook.
Aqueduct at  24°52.89′, -111°02.82′
Governor de la Toba's resting place…
Other family members are buried in this cemetery.
Rancho La Presa may date back to mission times… The second site of Misión de los Dolores, called La Pasión is less then 2 miles away.
El Oro: Possibly the hacienda of Don Manuel de Ocio
Manuel de Ocio was a Spanish soldier born in 1700, stationed at Loreto around 1733, saved the life of a Jesuit priest (Father Taraval of Todos Santos), and got involved in California's pearl industry.
Pearl harvesting had been steadily declining, but by 1748 Ocio had claimed the rich silver fields of 'Santa Ana', south of today's San Antonio, south of La Paz.
California's first mine 'Real de Santa Ana' was the creation of Manuel de Ocio, who also raised cattle, built ships, and was California's first tycoon.
Don Manuel de Ocio was murdered in 1771 by two miners while they robbed his storehouse.
The following photos, from Jack Swords are very likely ruins of Ocio's hacienda, dam, and other structures. Located about 30 miles south of La Paz at 23°45.08′, -110°5.70′ Photos are all copyright protected, 2005.
Many buildings are in the area, some newer built upon older foundations. Very old trees such as a giant mango and huge jacaranda are growing here.
This well built dam is still holding back water…
… and creates a deep, blue lake.
A pair of hornos (ovens), like the one at Real de Santa Ana used to make bars of silver.
Visita at San Jacinto, B.C.S.
Jack Swords and Edward Vernon were following the directions of author Tomas Robertson, seeking the Jesuit chapel at San Jacinto. According to Robertson's book 'Baja California and its Missions' c1978 La Siesta Press on page 48, they would find it between Todos Santos and Cabo San Lucas.
23°14.60′, -110°4.65′ (WGS84)
Success!
All photos copyright cJack Swords Web site by http://vivabaja.com/
Mine at Valle Perdido
Located below Las Gallinas/ El Oro/ El Triunfo… Exact location unpublished per local request.
El Triunfo-San Antonio Railroad
Bridge located at  23°48.74′, -110°5.52′ (WGS84) elev. 1,689′
San Blas 23°53.19′, -110°9.24′ (WGS84), elev. 1,525′
Located about 20 miles southwest of La Paz, this church is built upon the ruins of a stone chapel. The old chapel was all that remained of a ranching community founded about 1760.
Modern bricks join old rock church wall…
Old wall with new repairs…
In the first edition (1956) Lower California Guidebook it mentions old bells were on the roof of the stone ruins. Perhaps this was one of them?
View towards El Zalate
Beyond San Blas, a trail is reported to go to 'Angel de la Guarda' a visiting station of the La Paz mission. The 'visita' is also known as El Zalate and was established in 1721 at a pretty oasis near the top of the Trinchera range. A tiny spring feeds fruit trees and a palm grove (per Gulick in 1956).
Angel de la Guarda (El Zalate)
Palm grove, fruit trees, stream… and stone ruins confirm the site of a La Paz mission visita from the 1700's!
Guava trees (not native) originally planted by the padres, perhaps?
View back down towards San Blas