July 2007 Baja Trip Elizabeth and I enjoyed an eight day trip down Baja that began with the El Rosario Cultural Festival. Our vacation included a visit to the Las Pintas petroglyth and fossil grotto, a 200 mile dirt road down the Pacific side of Baja, a visit to Bahia Asuncion and Shari and Juan's place, then down the coast to Punta Abreojos, San Ignacio, Santa Rosalia, Mulege and Bahia Concepcion.
Las Pintas (Sat., July 21, 2007)
Roy and Elizabeth getting ready to hike up the Las Pintas trail. Roy traveled with us for the first part of our week in his Land Rover.
Petroglyphs are everywhere!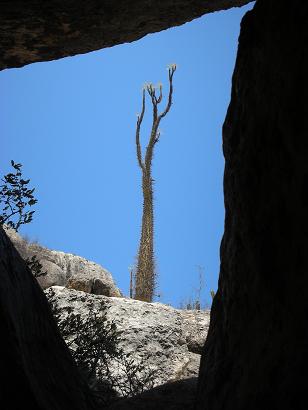 From under a huge boulder was this view of a boojum tree.
Petroglyphs are the billboards of the past!
A long, narrow passage through the boulders leads to a waterfall (dry).
Gadget's GSB Chase Truck
Leslie helps Elizabeth gets secured for a fun run in Gadget's Bronco! Gadget (Wil) helps pit off road racers as part of Team Locos Mocos.
Roger ('rogerj1') and his son Spencer at the Baja Cactus hosted party for Baja Nomads. http://www.bajanomad.com/is an Internet forum where Baja information is shared.
Antonio ('Baja Cactus') and Little Lorenia at the Baja Cactus Motel http://www.bajacactus.com/
Roy ('The Squarecircle') and Elizabeth ("Baja Angel') at the Baja Cactus party.
The Distant Pacific Route (Sun.- Tue.)
We left El Rosario Sunday with Roy following along for the next part of our vacation: The nearly 200 rough miles parallel to the Pacific side of Baja. Some of this remote road has been used for off road racing. First time was the 1975 Baja 1000.
ROAD LOG: THE DISTANT PACIFIC
Road Log 194.7 miles from Hwy. 1 to Hwy.1
The route along the Pacific is a way one can experience a little of what it was like to drive the length of Baja before Highway 1 was constructed between 1967 and 1974 (Dec. '73).
The route shown on the map is almost 200 miles and there are no services or fuel until Santa Rosalillita or beyond at Villa Jesus Maria.
Total (and partial) mileage shown from my Tacoma odometer. AAA map mileages for the same section of road were the same or very close to mine.
0.0 (0.0) Take the signed right turnoff to 'Santa Catarina (32 km)' 46.9 miles from El Rosario's Pemex. The road is between Km. 132 and 133. Just ahead (on Hwy. 1) is the road left to Guayaquil.
This is a good, fast graded road for the first 30 or so miles and it is fun to drive through beautiful cactus gardens.
7.2 (7.2) Road in from left to San Agustin along the old route from El Marmol… where onyx blocks were trucked to the Pacific at Santa Catarina Landing to be shipped north.
19.2 (12.0) pass through tree shaded Rancho Santa Catarina.
21.1 (1.9) Fork, left to Punta Canoas and right for Santa Catarina Landing… we go right. The road climbs to the the top of a ridge and then drops down to the coastal plain. The original road used to haul onyx over can be seen to the north.
36.3 (15.2) Fork, we first take right fork and it goes 3.4 miles to fish camp 'Punta Blu'… dead end, so back to this fork and take left branch.
37.3 (1.0) Road left is the route south… ahead goes 1.0 mile to Santa Catarina fish camp, on the beach.
38.1 (0.8) Turn left and head away from coast.
47.3 (9.2) Come to the Punta Canoas road which forked at Mile 21.1 above. Turn right.
51.3 (4.0) Road to left… we continued straight.
52.3 (1.0) Road to left… we continued straight.
55.2 (2.9) Junction… Ahead goes 1.1 miles to high, look out/ view point, above Punta Canoas… To continue south, turn left.
58.5 (3.3) Join with road heading south (probably coming from the roads that turned left at Mile 51.3 and 52.3).
62.0 (3.5) Puerto Canoas Fish Camp. Reset odometer to 0.0 for the next section of the road log.
0.0 (0.0) Puerto Canoas Fish Camp. We first travel across the arroyo valley to investigate a modern, large home/ building near the beach… then head east.
1.8 (1.8) Big house facing beach on south side of arroyo. Head east, as no road is seen going south, close to the beach.
The auto club map shows the road we are on and we make camp at Mile 8.0 at the base of a pointy hill… about where the mileage '13.9' is shown on the AAA map.
The Baja Almanac only shows this road as a trail. Our first night camp is to the east of the word 'Mujeres' (an arroyo) on Almanac Map 17.
17.4 (15.6) Pass a pair of graves and come to a cross road at an abandoned ranch. This should be the road from Hwy. 1 near Cataviña going to Faro San Jose. We turn right.
19.6 (2.2) Cross road, fenced entrance. Continue ahead.
21.5 (1.9) Join newer, graded road… continue ahead.
22.6 (1.1) Green school(?), fork to right.
33.1 (10.5) Road in from right, continue ahead.
35.5 (2.4) Fork, go right.
37.4 (1.9) Road to El Mirador to right, continue ahead.
39.6 (2.2) Arroyo San Jose fish camp.
We want to stay near to the coast, and find a poor 'Jeep' road that does just that. After 6 slow miles we near Bahia Corbin and drive out onto the point on the north side of the bay for a lunch break. Finally, a beautiful looking beach… but a fish camp is there, too.
46.0 (6.4) Bahia Corbin, north end camping area on side road, just off coastal road. Reset trip odometer to 0.0. 
0.0 (0.0) Bahia Corbin. Return short distance to coastal road by fish camp and continue south.
8.8 (8.8) Arroyo La Pintada valley and road to east (to Laguna Chapala?).
10.4 (1.6) A second road going east which I am pretty sure is the unmapped road to Laguna Chapala on Hwy. 1.
16.0 (5.6) Road to coast at Bahia Blanco. We continue south.
The main road swings inland along Arroyo El Sauz, but we see a lesser dirt road cutting across the marsh (was dry) area staying nearer the coast and take it. This is not shown on the AAA map or Almanac.
21.7 (5.7) Meet newly graded roadbed on south side of Arroyo El Sauz. This soon follows the 'poor' road location shown on the Almanac and AAA map.
29.3 (7.6) After lots of silt on the graded roadbed we come to the north-south (now graded) road between Cordonices and Punta Maria. We turn right on the fast road, or better called 'dirt highway'.
34.5 (5.2) Road to right goes to Punta Cono. We continue south.
42.2 (7.7) Bahia Maria beach, near Punta el Diablo
43.0 (0.8) El Cardón ranch.
46.1 (3.1) Road to beach 0.4 mi., just south of Punta Lobos.
We are pooped from so much hard driving and want to make camp, so we go to the beach for a look.
We drive down the beach to find a camp site in the Valle los Ojitos dunes. A sea lion (lobo) is on the shore… photos. 
0.0 (0.0) Beach road (Punta Lobos/ Valle los Ojitos)
6.8 (6.8) Road west to El Marron fish camp (near Punta Prieta/ Punta Negra). Road (or dirt highway here) heads away from the coast around the Sierra San Andres.
17.0 (10.2) Cross Arroyo San Andres
17.2 (0.2) Road west signed to '3 Alejandras' (Puerto San Andres).
21.1 (3.9) Come to PAVED Santa Rosalillita highway, turn right for the coast. (Hwy. 1 is about 8 miles to the left)
22.1 (1.0) FORK, Escalera Nautica Harbor is 1.2 miles to right. Straight ahead goes to:
22.5 (0.4) Santa Rosalillita village on the beach. Gas and supplies available.
Reset trip odometer to 0.0 for the final section of this coastal road log to Hwy. 1 via Punta Rosarito.
0.0 (0.0) Santa Rosalillita. Take street parallel to the coast south… road soon turns inland and crosses Arroyo Santo Dominguito, eventually returning nearer the beach.
This is a slow, rough road and is only advisable if you seek a wide, sand beach that stretches for miles in both directions.
11.0 (11.0) Road to west to coast at Punta Rosarito.
15.4 (4.4) Road has been following a rocky shore for a few miles and now leaves the coast.
18.1 (2.7) Highway 1 at Km. 63 (63 kilometers south of the Bahia de los Angeles junction).
Nuevo Rosarito is almost 7 miles north and Villa Jesus Maria (Pemex station) is 19.8 miles south.
Summary: The 'distant Pacific' is a combination of remote areas, rough and good roads, rocky and sandy beaches, commercial fishing camps as well as unpopulated areas.
The northern half coast (Santa Catarina, Canoas, San Jose) is an area so unappealing and little to offer that I would probably not return. The inland sections (in the sunshine), had some beautiful desert scenes, but the overcast coastline wasn't appealing considering the distance and lack of services.
The southern half had some fine looking beaches as well as the 'ugly' fish camps, but the water temperature is so cold that I wouldn't be going there often, if ever again. The Sea of Cortez spoils me…
Another note… the Mexican government has built a paved highway to the coast at Santa Rosalillita and a good dirt highway north of Punta Cono with unfinished construction to Bahia Blanca. THIS AREA is no secret, and anywhere a standard auto can get to it won't belong before problems follow. It is BAD ROADS that filter out the bad people, not road logs or maps.
This Pacific coast road has been logged and mapped since the 1950's (Lower California Guidebook, Offbeat Baja, Baja Adventure Book, AAA map and guide, etc.). If I can find unpopulated beaches in 2007, after 50 years of maps and guides… then I can hardly blame any author if development comes!
Nope, it will be the paved and graded dirt highways that will change the area, as it has everywhere else in Baja they were built.
(Sunday)
The Santa Catarina road is nice drive for about 30 miles… then there is some rough and dusty (silt) places closer to the coast.
The distant Pacific comes into view as the road drops off the mesa.
View point above Punta Canoas… Roy's Land Rover goes ahead for a closer look at the edge.
It's a baby!
A baby boojum tree this small is very hard to find! This one was near our first night's camping spot, 8 miles east of Puerto Canoas.
(Monday)
South of Arroyo San Jose the road requires four wheel drive for a few miles along some rugged terrain.
On the beach, south of El Cardón and Punta Lobos we look for a camping spot in the dunes. This coyote is having some seafood for dinner.
Our second campsite along this Pacific route was behind some dunes for wind protection. After making camp, we took a walk on the beach…
This sea lion allowed us to come close for photos!
Very cute… The Spanish word for sea lion is 'lobo' (also means 'wolf') and we were near Punta Lobos.
Baja California Sur (Tuesday)
Tuesday morning we finish our drive down the distant Pacific dirt road, have tamales for lunch at Carmelita's in Villa Jesus Maria, and reach the state border near Guerrero Negro where a giant eagle monument was built on the border celebrating the completion of Highway One, in 1973.
The paved highway going from Vizcaino to Bahia Tortugas allows easy access to once a very remote area of Baja. Here the road crosses an arm of the Scammon's Lagoon salt flats. Pavement ended at the junction for Bahia Asuncion. However, new asphalt was being applied for several miles towards Asuncion.
VIZCAINO PENINSULA ROAD LOG
Bahia Asuncion
Shari and Elizabeth at Shari and Juan's home and Bed & Breakfast… 'The Blowhole' or La Bufadora http://www.bahiaasuncion.com/
The blowhole below Shari and Juan's place, where sea water is sprayed up with each wave.
Small World! (Wednesday)
Wednesday, Shari takes us for a tour to San Roque. As we drive out of Asuncion we pass our friends Dern and Paulina ('P' on Baja Nomad) visiting from Bahia de los Angeles!
The beach at San Roque, where Shari and Juan offer a cabin for guests.
San Roque is a nearly abandoned fishing village just a few miles from Bahia Asuncion.
Here's Juan the fisherman!
Today, Juan was taking some people who were camping at San Roque fishing and they came in while we were there.
Back at Bahia Asuncion, Wednesday afternoon.
One of the fish just caught was a yellowtail which Shari turned into sushi (sashimi) for me to enjoy!
(Thursday)
After Shari invited us to breakfast, we said our goodbyes and thanks for the hospitality. Back on the road for us. Miles of beautiful beach are found between Asuncion and Punta Abreojos. This one was near Punta Prieta, just a short distance from the main road.
The next village after Punta Prieta is San Hipolito which had this small pier, lined with birds.
Between San Hipolito and La Bocana a lizard uses this kilometer marker for a look-out tower.
The town of La Bocana is at the mouth of this long lagoon which goes all the way to Punta Abreojos.
Sailboat shape street lights at Abreojos give this osprey a place to rest.
Elizabeth and I at Punta Abreojos.
Campo Rene
Campo Rene is a sportsman resort on Estero el Coyote, just a few miles from Punta Abreojos. A restaurant, palapas, cabins and airstrip are available.
Fishing and bird watching are popular in the estero.
The cabins at Campo Rene.
Palapas at Campo Rene look very inviting.
New pavement is just a few miles north of Campo Rene's entrance road. Work is progressing and soon Abreojos will be reached with ease.
San Ignacio
The oasis of San Ignacio is quite a pleasure to see after hundreds of desert miles in Baja!
The 2 mile side road into San Ignacio is one that shouldn't be missed on any peninsular trip.
Misión de San Ignacio
Founded in 1728, the Spanish mission is the center of this small oasis village in the middle of the Baja peninsula.
Inside the mission church.
Next door to the mission is a small museum displayng a recreation of the giant cave paintings discovered in the nearby Sierra San Francisco.
Between San Ignacio and Santa Rosalia, Highway One passes by the base of Baja's most recently active volcano, Las Tres Virgenes.
Sea of Cortez!
The first time Highway One reaches the Sea of Cortez (Gulf of California) is here, just north of Santa Rosalia.
Santa Rosalia
An old mine train is on display in this former French copper mine/ company town.
Iglesia de Santa Barbara
Gustave Eiffel (of Paris' Eiffel Tower fame) designed this prefabricated, iron church for the 1889 World's Fair. After the fair, it was shipped to Santa Rosalia and re-assembled.
Many buildings in Santa Rosalia date back to the French days (1880's to 1950's).
Mulegé
We pass through town and drive along the river.
Happy Elizabeth in the warm Gulf of California water!
The El Patron restaurant is right there, on the beach. We enjoyed a fantastic meal that afternoon.
El Requesón
South of Mulegé is Bahia Concepción with many camping places. El Requesón has palapas on a sand beach which connects to an island at low tide,
El Requesón Island, from our palapa.
Thursday's sunset was beautiful and set the mode for our camp the next two nights.
One more look at the changing sky show.
Friday
The sun was bright, so the palapa with an additional tarp provided shade.
Our tent on the east side of the palapa had a view of Requesón Island. We were in the last palapa on the beach. The other campers were on the other side.
I am enjoying a morning dip!
The view from our palapa, looking south…
… now southwest…
That afternoon, we drove north to look at other camping sites along Bahia Concepcion. The road to El Coyote Beach disappears at high tide!
Returning to our camp just before dark, we pulled off the highway to telephoto our palapa & tent on the Requeson sand spit.
Friday night's sunset was a beauty.
The moon was bright that night.
The next day we would be packing up and heading home, but still see some sites along the way.
Saturday… Misión Santa Rosalia de Mulegé
The mission was founded in 1705, the Jesuits completed this church in 1766 on a high, flood-free location.
Inside the mission church built by the Jesuits over 240 years ago! Details on all the missions in Lower California at http://vivabaja.com/missions1
Mulegé is a Baja California tropical paradise. This view from the mission site.
Elizabeth and I always have a great time in Baja!
The river passes the mission, then the town of Mulegé before reaching the sea.
A quick stop in Santa Rosalia to photograph the malecon (sea walk) and black sand beach.
Volcán Tres Virgenes
We drove into Guerrero Negro and took a drive out the causeway across Black Warrior Lagoon to see the abandoned salt loading port.
The original dock where salt was loaded onto barges. The operation was moved to Scammon's Lagoon over 35 years ago.
Abandoned port facility and lighthouse in the background, where we say adios until the next trip we share with you!