On Saturday, April 23, 2005, Keri and the staff of the Pyramid Resort (K57-58 Free Road to Ensenada) hosted the third Baja Book Authors Signing Party.
Doug (BajaNomad) and Dennis (Love2Go2Baja). Doug hosts the very popular Baja Internet travel forums at http://www.forums.bajanomad.com/ and Dennis is writing a book on the cave art of Baja.
Keri (on the right) is calling out winners for the numerous excellent door prizes given during the day.
Mexico Ted (Baja Talk Radio) is chatting with the people of mexicanautoservices.com.
'M' (Michelle) and 'jeans' (Mindy) have a visit. Mindy was representing Celia Diaz' excellent Binational Emergency Medical Care Committee http://www.binationalemergency.org/
'Baja Legend' and 'Baja Fever' author Greg Niemann chats with visitors at the event.
'Cindarouh' (Cindi) at the Pyramid Resort's big fountain.
Mary Ann and Mike Humfreville visit with 'elgatoloco' (Matt).
Graham Mackintosh who has walked the 3,000 mile coast of Baja ('Into a Desert Place'), then walked 1,000 miles down the middle of Baja ('Journey With a Baja Burro'), and most recently spent the summer in the high sierra of Baja ('Nearer My DOG to Thee'), was his cheery self! http://www.grahammackintosh.com/
'TheSquareCircle' (Roy) came down to see what was going on! Roy and I recently had a great breakfast in Tecate before our off roading trip that day. The Tecate restaurant is 'Casa Vieja' on Blvd. Oscar Bayan west of the brewery.
'Satellite Man' (Arman) and Kelly attended the Pyramid Resort's event. http://www.satprints.com/
Daniel Reveles autographing his book 'Enchiladas, Rice and Beans'… Sr. Reveles has also written 'Salsa and Chips' and 'Tequila, Lemon and Salt'.
'Mexico Ted' of Baja Talk Radio on http://www.worldtalkradio.com/ was enjoying the day meeting old and new Baja friends and guests on his weekly program.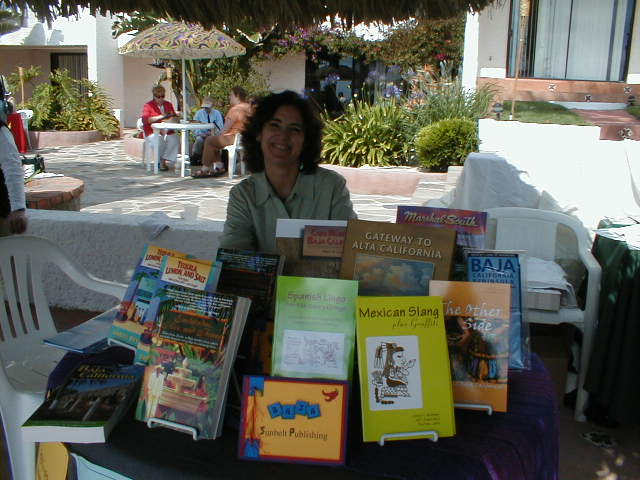 Jennifer Redmond of Sunbelt Publications and editor of the Sea of Cortez Review was busy selling books and meeting other authors.
Diana Lindsay, the president of Sunbelt, with a nice door prize she won. http://www.sunbeltpub.com/
Daniel Reveles, 'Baja Angel' (Elizabeth), and 'David K'
'BajaNomad' (Doug and son Ryland), 'Cindarouh', and 'Baja Bernie' (author of 'Mi Baja No Hurry, No Worry' and 'Bouncing Around Baja').
A nice photo of Doug and his lady, Michelle. http://www.bajanomad.com/
Baja Angel and David K
Doug took this photo of Elizabeth and me… Thanks!
It was a great day to visit with amigos, meet authors, and buy books!
Doug, Greg Niemann, and David K
'M' rejoices her winning a door prize, as little Ryland is wondering just a bit!
Three Wise Men
Enjoying the sunset, watching dolphins in the surf, and pondering the magic of Baja are Doug Means, Matt (elgatoloco) and Mike Humfreville.
After the Book Signing: Pot Luck Dinner!
Matt samples the shrimp… just SO MUCH GREAT FOOD!!!
Dessert was endless (more added after this photo) and included this great pyramid cake!
Baja Gals Group Photo
'jeans', 'Baja Barb', 'Baja Angel', Mary Ann, 'GeoRock', and Michelle.
Sunset April 23, 2005
The third Baja Book Signing was another success, thanks to Keri http://www.pyramidresort.com/, Bernie, and many others!
Many thanks! David K http://vivabaja.com/