'Baja' has been in my blood since 1965, when my parents began their travels south in a Jeep Wagoneer. Gonzaga Bay was our first destination.
A two week adventure from Tijuana to Cabo San Lucas occurred in 1966. L.A. Bay was visited in 1967. In addition to those trips, many long weekends were spent south of San Felipe at Nuevo Mazatlan (Agua de Chale). Later on, I often camped at a beach I call 'Shell Island'.
At 15, following a family trip to Loreto where I took hundreds of notes on the new road being built, I authored my first guidebook in 1973. Titled, 'Baja and the Transpeninsular Highway', it was the first guide to the new Baja highway (then, still under construction) .
Trips without parents began on Spring Break, 1974 when I was 16 (with school friend Pat Goforth, using my street-legal dune buggy. Seen below on Spring Break, 1975 (with school friend Mike Clancy), on the road to El Mármol:
My next Baja guidebook was published in the Jan. 1975 special edition of The Baja California Bulletin.
My next vehicle was a '75 Jeep Cherokee Chief, seen here on the road to San Felipe from Diablo Dry Lake in November 1975, a trip to view the first Score Baja 1000. Mitch Fleet (grandson of famed San Diego aviator Rueben H. Fleet) was my passenger-friend. Mitch's father (Preston) was a leading force, operating the famous Reuben H. Fleet  Space Theater, and Organ Power Pizza restaurants of San Diego. Thanks to Mitch, I got an inside look at both businesses. Mitch died way too soon, at 34.
The Jeep was expensive to drive and had many failures. It was sold in 1977 and a new Subaru 4WD Wagon took its place. Getting 25 mpg and never breaking down meant for many Baja trips!! Seen here between Calamajué Canyon and El Crucero, pre-running over 200 miles of the '79 Baja 1000.
I made numerous trips to Baja for camping, exploring, and to watch the off road races. I was invited to help a pit team at Nuevo Junction for the '78 Score Baja Internacional or "Baja 500". I joined up with the Vista based team 'Los Campeones', and was a 'pit captain' for several Score races. Class 6 racer, 'Skip' Ylhainen asked me to be his co-driver for the '79 Baja 1000 (Ensenada to La Paz). Even though we broke down early in the race, I had fulfilled a dream and was quite an experience, to be sure! I pre-ran the race in my 4×4 Subaru from San Matias Pass to El Crucero (my first section to drive, over 200 miles). Photo below is when I test drove the racer, a few days before the race began.
I extensively mapped the area south and west from San Felipe and 'rediscovered' a road that leads across the coastal range from near the sulfur mine to Valle Chico. This led me to explore Matomí canyon, with a waterfall and large pool, even in August! I wrote a few articles for the Mexico West Travel Club newsletter, and became friends with club owners and Baja authors Tom and Shirley Miller.
********************************************************* More of my hand drawn maps of San Felipe & South ************************************************
In the 1990's, business, marriage, children, and divorce, had reduced the trips taken into Baja. But, with the Internet one can revisit Baja daily! I reply to posts on the several Baja message boards and Facebook pages when I can provide information or links. I have also served as Internet 'secretary' for Graham Mackintosh (author of 'Into a Desert Place' and 'Journey With a Baja Burro').
My two children (Christopher & Sarah) getting in touch with Baja, 1992:
On the Internet I met Baja Mur/ Murry Carver, a great guy, full of life, with a heart set on adventure! We met in person May 1st, 1999 (at 3 a.m.), and by 3 p.m. we had been to Mission Santa María and suffered injuries together attempting to leave the valley containing the mission. Thus becoming 'Baja Blood Brothers' and the event the gave that steep part of the road, the name 'Widowmaker'! That trip is also what became the first trip page on my new website.
In July, 2000, 'Lorenzo de Baja', invited me to go for a week exploring sites in northern Baja. I met him two months earlier at a gathering in San Clemente where I met Baja amigo Timothy Walker of TimsBaja.com. On the Internet, one discovers an amazing amount of Baja enthusiasm is 'out there'.
My first 'Viva Baja' party was next. Baja people love to meet other Baja people. We share experiences, and realize we are not alone. Others have the disease, known as 'Baja Fever'! See the Viva Baja party photos. I acquired a four wheel drive truck and took Lorenzo exploring the last weekend of 2000. The Presidents Day 2001 Weekend, was the first Baja Amigos group trip. Here is my first (2001) Toyota Tacoma, on the road to Mission San Borja, April 2002:
Trips of fun and exploration continued. From 2001 to 2022, I have traveled and camped throughout the peninsula, adding to my experiences. In 2004, I met my soulmate and life-companion, Elizabeth. We were married in 2008. Camping trips to Baja are a big part of our recreation, but not as often as we like.
In 2016, I wrote and published Baja California Land of Missions fulfilling my desire to provide an accurate source of history on this dynamic period.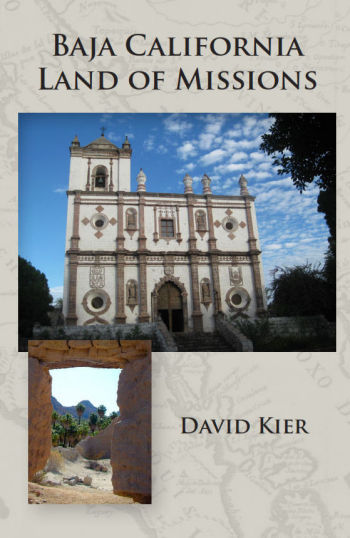 For the past several years, I have been writing the Baja Travel Adventure articles for Baja Bound's online, monthly bulletin, sharing my stories of travel, people, and history of Baja California. https://www.bajabound.com/bajaadventures/bajatravel/
A new Road Guide has been prepared for publication by Baja Bound Insurance, following eight expeditions they have sponsored, for me to gather details, photos, and GPS.
Communicating on the Internet with many old and new friends means more adventures in Baja are guaranteed! Please also see the VivaBaja.com links to view other great web sites!
'Shell Island' is the place we like to vacation… it is almost always deserted!
Because it is an island, sometimes we have to wait for access! That's okay, the view is great as we watch the tide go out!
My last trip to Baja California was in March 2022, riding with my friend's (TW's) Tacoma and joined by others to Mission Santa María, my fifth time since that first, with Baja Mur, in 1999: https://vivabaja.com/msm2022/
I hope that I inspire you to get connected with the greatest peninsula on earth, Baja California! My Website: VivaBaja.com + VivaBaja Facebook Group +  BajaMissions Facebook Group + E-Mail info@vivabaja.com is how!