Kathleen and Don in 'La Cueva' Photography by Marla Jo Fisher (unless otherwise noted). Look for her story in the Orange County Register. Thanks Marla! Jeans sized the photos on her PC for this web page. Thanks Jeans!
Humfreville's campsite 'El Sol' in Guadalupe Canyon. Mary Ann is waving to Marla.
Desert Bull (Tim) experiencing the 'Baja Feeling' at campsite 'El Castillo' in Guadalupe Canyon.
View of Laguna Salada from Guadalupe Canyon
Here's Mike Humfreville
4Baja (Steve, on left) chats with some of the gang.
Here is Kyle who thinks hot tubs are COOL!.
Kim making coffee in campsite 'El Mirador'. She was Marla's guest from Georgia!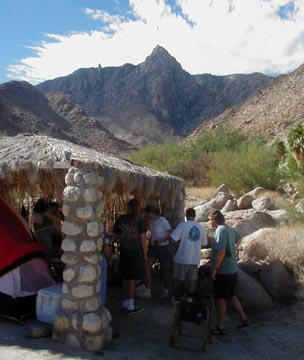 Socializing at campsite El Sol (Humfreville's).
Sarah K in El Mirador's hot tub, perched on the edge of the palm canyon.
Doing dishes (with the 125° spring water) is Jeans!
Sarah K and David K ready to leave… get a shirt on dad (that feast put on by M and BHL was awesome)!
The peak that dominates the canyon and to it's left, the pinnacle that resembles Mexico's Virgen of Guadalupe. BBBB-2 was fantastic. Paulina's surprise arrival was the icing on the cake!
The 'highway' to Guadalupe Canyon. This is looking east towards Laguna Salada.
Desert Bull & Princess
'Hotschott' in his Chevy truck
'Hotschott'(Steve) and Val at La Paloma campsite
GPS DIRECTIONS TO GUADALUPE (WGS84)
Graded Road at Mexico #2: N32°34.33′ W115°47.40′
Dry Lake Road at Mexico #2: N32°34.57′ W115°44.67′
Jcn. Graded and Dry Lake Roads: N32°13.06′ W115°42.29′
Entrance Guadalupe Campo #1: N32°09.40′ W115°47.33′
Map of Arturo's Campsites:
Some Baja Links