Las Tinajitas
Neal and Marian lead us to a cliff face of many caves. Most of which contain ancient cave art. Christopher was great climbing up to each one and reporting his discoveries.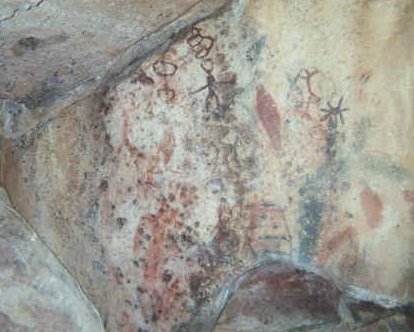 When Chris yelled he found a 'medicine man', we scrambled up to see this cool cave.


After examining many caves at Las Tinajitas, we followed Neal and Marian south past San Borja (we would return the next day for a closer look there). The road immediatly gets bad and requires 4WD. A rough climb is made to a higher valley, containing the old San Borja airstrip. Beyond is a faint and overgrown road heading SE into the San Juan Valley. Our goal was the very old ranch of San Gregorio.