Our hot tub and palapa at campsite 'La Jolla B'
Elizabeth and David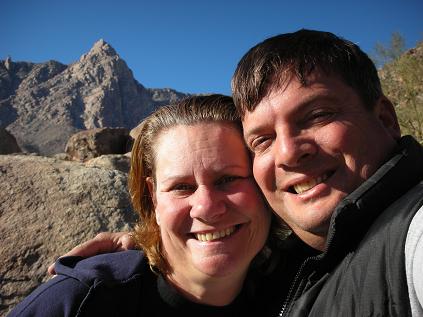 Another great weekend in Baja at Guadalupe Canyon, this trip with our friends Steve and Val.

Guadalupe Canyon to La Vibora Canyon (8 miles)
0.0 Arturo's Camp, La Paloma & La Jolla road
2.2 Take right fork. Left is main road back to highway
2.8 Turn sharp right onto track heading south
7.5 Take road to right that drops steeply into arroyo
8.0 End of road, park for petroglyph and metate hike
GPS at end of road: 32°06.733', 115°44.612' (map datum NAD27 Mexico)
Allow 3 hours for the drive and hike.